Fourney and Sanford Recognized at Annual SEM Meeting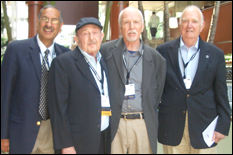 Associate Dean and Keystone Professor of Aerospace and Mechanical Engineering William Fourney and Mechanical Engineering Professor Emeritus Robert J. Sanford received awards at the annual Society for Experimental Mechanics (SEM) meeting held June 2 - 5 in Greenville, S.C. Fourney received the Frocht Award, presented annually to the "educator of the year," for his "outstanding achievement as an educator in the field of experimental mechanics." Sanford was recognized with a "Gold Certificate" award for his fifty years of membership and service to SEM. SEM President Emmanual Gdoutos presented this year's awards.
Fourney's nomination was submitted by faculty in the Department of Mechanical Engineering, but his commitment to education and research is recognized across the Clark School of Engineering.
Professor Hugh Bruck, who organized the award submission, said, "Professor Fourney was nominated based on the numerous contributions he has made to the academic programs in the field of Experimental Mechanics, as well as to the A. James Clark School of Engineering and the Department of Mechanical Engineering. His efforts have had an extraordinary impact on our Department by providing students with an enhanced and customized educational experience in their first two years through the Keystone program. This has prepared them to achieve even greater academic success during their final two years within our Department then before the creation of the program."
Fourney received his B.S. in Aerospace Engineering and his M.S. in Theoretical and Applied Mechanics from West Virginia University. He received his Ph.D. in Theoretical and Applied Mechanics from the University of Illinois in 1966. His research interests are in experimental mechanics and fracture mechanics, and he has published over 250 articles on his research in dynamic material response, fracture and crack arrest, including over 50 reports to the sponsors of his research, including the National Science Foundation, Department of Energy, Oak Ridge National Labs and many others.
The University of Maryland Department Mechanical Engineering holds the distinction of being the only university with more than two SEM members who have received the Frocht Award. Other Maryland mechanical engineering faculty recipients include J. W. Dally (1976) and Sanford (1994). In addition, Mechanical Engineering alumnus Arun Shukla (M.S. '78, Ph.D. '81), and current dean at University of Rhode Island's College of Engineering, received the Frocht Award in 2001.
Sanford received his B.M.E. (1962) and M.S.E. (1965) degrees in Solid Mechanics from George Washington University. He received his Ph.D. in Solid Mechanics with a minor in Mathematics from Catholic University of America in 1971 and pursued post-doctoral study at the University of Maryland from 1978 to 1979. His research interests include experimental and numerical fracture mechanics, optical mechanics, experimental stress analysis and strength of materials. Sanford is a founding member of the American Academy of Mechanics, and he has been recognized for his work through numerous honors, awards and professional memberships.
In addition to Sanford and Forney, several mechanical engineering students attended the meeting through the assistance of a George R. Irwin Centennial Research Travel Award, and presented their work at the conference and as part of the SEM Student Paper Competition.
Student papers presented at SEM:
"Mechanics of Multifunctional Compliant Robotic Structures"
Ying Chen
"Experimental/Numerical Investigation of Smart ECU Subjected to Thermal Cycle"
Dae-Suk Kim
"Determination of Adhesion Strength of Critical Interfaces in Thin Multilayer Microelectronic Systems through Four-Point Bending Testing"
Kenny Mahan
"Measurement of Effective Chemical Shrinkage and Modulus Evolutions of Polymers"
Yong Sun
"Coalescence and Growth of Two Semi-Elliptical Coplanar Cracks in API-5L Grade B Steel"
Abdallah Al Tamimi
"Prediction of Statistical Distribution of Solder Joint Fatigue Lifetime Using Hybrid Probabilistic Approach"
Hsui-Ping Wei
"Improved Spectral Power Distribution Deconvolution Scheme for Phosphor-converted LEDs"
Bulong Wu
SEM, originally called The Society for Experimental Stress Analysis, was founded in 1943 as a nonprofit scientific and educational organization with the goal to "further the knowledge of stress and strain analysis and related technologies." SEM members have interests in modeling and analysis, strain measurement and structural testing.
For more information on Fourney, Sanford or SEM, please visit their websites.
Published July 18, 2014