Hahn Receives 2014 ONR YIP Award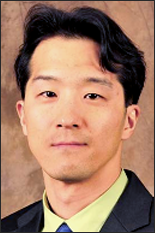 Mechanical Engineering Assistant Professor Dr. Jin-Oh Hahn has received a Young Investigator Program (YIP) award by the Office of Naval Research (ONR) under the Department of the Navy.
A total of 24 awards were given this year to candidates from 19 academic institutions across the country in disciplines ranging from "machine learning, computational biology, optical and acoustic sensors and structural dynamics to material science, corrosion, fluid structure interaction, modeling and simulation, communication, robotics and neural science."
According to the ONR press release, "Awardees are college and university faculty who have obtained tenure-track positions within the past five years. They are selected based on the merit of their research and potential breakthrough advances for the Navy and Marine Corps."
Hahn received his B.S. and M.S. degrees from Seoul National University and his Ph.D. from Massachusetts Institute of Technology. Dr. Hahn worked as an Assistant Professor at the University of Alberta before starting at the University of Maryland, and he is a member of the American Society of Mechanical Engineers (ASME) and Institute of Electrical and Electronics Engineers (IEEE) as well as an Associate Editor for ASME's Dynamic Systems and Control Division.
The ONR YIP is one of the oldest and most selective scientific research advancement programs in the country. Its purpose is to fund early-career academic researchers—called investigators—whose scientific pursuits show exceptional promise for supporting the Department of Defense, while also promoting their professional development.
Since the start of the program, YIP has included 618 recipients from more than 130 higher education institutions. Previous ONR YIP recipients from the Department of Mechanical Engineering include Professors Hugh Bruck and S. K. Gupta.
For more information on Hahn, visit his faculty profile page.
For more information on the YIP award, visit ONR's website.
Published May 13, 2014