Gupta Receives AIAA Air Breathing Propulsion Award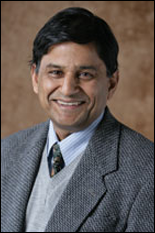 Department of Mechanical Engineering Distinguished University Professor Ashwani Gupta has been awarded the American Institute of Aeronautics and Astronautics (AIAA) Air Breathing Propulsion Award for 2014. AIAA recognized Gupta for his "outstanding contributions to the understanding and development of advanced high intensity combustors for near zero emission high performance air breathing propulsion."
Gupta has served as a faculty member in the Mechanical Engineering Department since 1983 and was appointed a Distinguished University Professor in 2008. He has received numerous honors and awards for his work on combustion. Gupta's recognitions have included: the American Institute of Aeronautics and Astronautics (AIAA) Energy Systems Award and Propellants and Combustion Award; the American Society of Mechanical Engineers' (ASME) George Westinghouse Gold Medal; the James Harry Potter Gold Medal Award; the James N. Landis Medal Award; the Worcester Reed Warner Medal; the Holley Medal and the ASME-AIM Percy Nicholls Award.
He has frequently been recognized with best paper awards from both the ASME and the AIAA over the past 25 years. Gupta served as the Director of Propulsion and Energy at AAIA and served on AIAA's Board of Directors from 2007 to 2013.
The AIAA Air Breathing Propulsion Award was established in 1975 and is presented for meritorious accomplishment in the arts, sciences and technology of air breathing propulsion systems.
Gupta will receive his award during the AIAA Propulsion and Energy Forum and Exposition held July 28-30, 2014 at the Cleveland Convention Center, Ohio.
For more information on Gupta, visit his faculty webpage.
Published May 29, 2014