Gupta Receives ASEE 2015 Ralph Coats Roe Award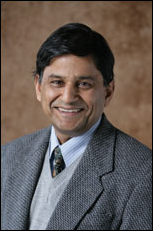 Department of Mechanical Engineering Distinguished University Professor Ashwani Gupta was awarded the 2015 American Society for Engineering Education (ASEE) Mechanical Engineering Division Ralph Coats Roe Award at their annual conference on June 15, 2015 in Seattle, Washington.
The award distinguishes an educator in the field of mechanical engineering known for their outstanding instruction and notable contribution to the field. These contributions range from excellence in laboratory teaching to conceiving of an idea of great importance to the advancement of the engineering profession or education in engineering. The award consists of a $10,000 honorarium in his name and a plaque.
In receiving this honor, Gupta joins fellow Mechanical Engineering faculty member, National Academy of Engineering President and former UMD President C.D. (Dan) Mote Jr., who won the award in 1997.
Gupta has been a faculty member in Mechanical Engineering at Maryland for over 30 years, and was named a Distinguished University Professor in 2008. He has won numerous best paper accolades for his work in combustion, including his notable discovery of an environmentally benign flame that uses hydrocarbon fuel. This discovery earned him the name "Mr. Green Flame" in the technical community. Last year, he was awarded the American Institute of Aeronautics and Astronautics (AIAA) Air Breathing Propulsion Award. In the past, he served as the Director of Propulsion and Energy at AAIA, and was a member of their Board of Directors from 2007-2013. Additionally, the American Society of Mechanical Engineers (ASME) has recognized his research and commitment to the field many times, most recently through their Melville Medal in 2013.
Published September 3, 2015