ME Alumni Alex Mehr Receives Clark School Early Career Award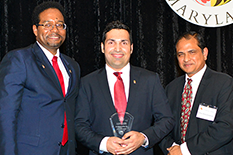 Mechanical Engineering alumni Alex Mehr (Ph.D., '03) was selected for one of three A. James Clark School of Engineering Early Career Awards. The Early Career Awards recognize professional achievements and exceptional contributions to the advancement of technology. This was the inaugural year for Early Career Award, and the award honors individuals who have made meritorious, rapid achievements in the early stages of his/her career.
Mehr is co-founder of Zoosk, the world's largest online dating platform and a top 10-grossing app in Apple's App Store. He started the company in 2007 alongside University of Maryland (UMD) alumni Shayan Zadeh (M.S., '02 Computer Science). Dubbed the "Amazon of dating," Zoosk has some 25 million users in 70 countries. In 2014, Inc. 5000 named Zoosk to their list of fastest-growing private companies in America, ranking the company 1660.
Before starting Zoosk, Mehr worked as an engineer for NASA and collaborated on several manned and unmanned space flights. In addition, he is the author of several peer-reviewed published articles on a variety of subjects such as: theory of complex systems, risk management, design optimization, aerospace systems, genetic algorithms, decision theory and numerical modeling. Mehr's Ph.D. dissertation at UMD focused on the optimal design of complex engineering systems, and Mechanical Engineering Professor Shapour Azarm served as his Ph.D. advisor.
Mehr, along with fellow Early Career Awards recipients Brendan Iribe and Nagarajan Valanoor, were honored during a special gala celebration held November 21 at the Samuel Riggs IV Alumni Center on the university's College Park campus.
Please visit the Clark School website to learn more about the Early Career Award.
Published December 1, 2014