Das Presents at SAE 2013 Counterfeit Parts Avoidance Symposium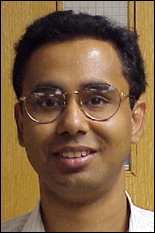 Department of Mechanical Engineering Center for Advanced Life Cycle Engineering (CALCE) researcher Diganta Das presented at the Society of Automotive Engineers (SAE) 2013 Counterfeit Parts Avoidance Symposium at Palais des congrès de Montréal in Montréal, Quebec on September 27, 2013.
Das' presentation, 'Material Based Part Authentication - Using the Built-in Imprints,' focused on the development of a toolkit that would assist with the detection and avoidance of counterfeit electronics components. It has become increasingly difficult to obtain original, or 'golden,' parts of the right vintage for comparison when inspecting for potential counterfeits. Das' toolkit can be applied to all parts, enabling less reliance on obtaining golden parts for comparison. Das also participated in a panel discussion regarding counterfeit standards.
Das received his Bachelor's degree from the Indian Institute of Technology in Manufacturing Science and Engineering and his Ph.D. from the Department of Mechanical Engineering at the University of Maryland. Das has published over 75 articles, and presented research at international conferences and workshops. He leads the Educational Outreach of CALCE, is a Six Sigma Black Belt, and a member of the Institute of Electrical and Electronics Engineers (IEEE), the International Microelectronics Assembly and Packaging Society (IMAPS) and the Surface Mount Technology Association (SMTA).
For more information on Das and his research, please visit his CALCE webpage.
Published October 9, 2013