Professor and Co-authors Win ASME Award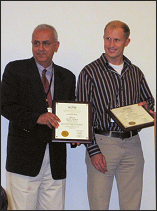 "I feel great about this significant achievement."
Professor of Mechanical Engineering,
Shapour Azarm
, has recently been awarded the 2009
American Society of Mechanical Engineers (ASME)
Design Automation Conference (DAC) "Best Paper Award." Co-authored by Mian Li and Nathan Williams, the team won the award for their paper entitled "Interval Uncertainty Reduction and Single-Disciplinary Sensitivity Analysis with Multi-Objective Optimization." The trio received the award on September 1, 2009, at the annual ASME Design Automation Conference held in San Diego.
Sponsored by the Ford Motor Company, the Best Paper Award is chosen from a large pool of submissions. For 2009, 158 full papers were submitted out of which 123 papers were accepted after a rigorous review process.
Former Ph.D. students of Professor Azarm, Li and Williams worked on the paper as part of their Ph.D. dissertation work. Li is currently serving as an Assistant Professor at the University of Michigan-Shanghai Jiao Tong University Joint Institute, Shanghai, China, while Williams is a Senior Analyst at Shell Energy in Spokane, Washington. The team received funding for their work from the U.S. Office of Naval Research.
On receiving the award, Azarm is effusive, "I feel great about this significant achievement. This paper was a lot of fun to work on--I believe I am speaking for all of the co-authors of the paper!" Most recently, Azarm was the recipient of the 2007 ASME Design Automation Award for his "sustained and meritorious contributions to research in Design Automation, specifically in computational design optimization and engineering design decision-making." He is a member of numerous scientific and professional organizations and has authored many publications. On campus, Azarm is the Director of the Design Decision Support Lab (DDSL) in the Department of Mechanical Engineering.
Azarm's best advice for current ME students, "Set your goals high, work as hard as you can towards those goals and deliver a quality job. If you follow these simple rules, you will always be successful."
For more information about the DAC Best Paper Award, please visit: http://cdl.engr.uconn.edu/asmeda/.
Published September 11, 2009