Yep to Deliver Student Speech for Clark School Spring Commencement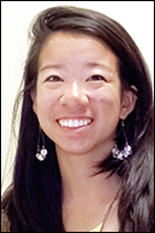 Mechanical Engineering student Rebecca Yep will be the student speaker for the Clark School spring commencement ceremony to be held Friday, May 23 at the University of Maryland Comcast Center.
Hailing from Howard County, Maryland, Yep chose to study Mechanical Engineering because of her interest in applying math and science to real-world issues. As an engineering student, she had the opportunity to intern at General Electric Healthcare, manufacturing incubators for premature infants, and at Lockheed Martin Missiles and Fire Control, supporting design and testing of the F-35 Lightning fighter. Yep is fluent in French, and she has studied abroad twice—in Strasbourg, France and in Sydney, Australia—as part of the requirements for her minor in International Engineering.
She was the captain of Maryland's Varsity Cross Country and Track and Field teams and served as the Vice President of the Student Athlete Advisory Committee (SAAC) locally, and as a Maryland representative at the Atlantic Coast Conference (ACC) SAAC convention. As part of Maryland Athletics, Yep has been honored as the Cross Country MVP, was named to the ACC All-Academic Team, was selected as an Arthur Ashe Sports Scholar finalist and helped her team win the UMD President's Cup awarded to the team with the highest cumulative grade point average.
Yep was also involved with a number of academic activities, including: Flexus, a Women in Engineering program; Pi Tau Sigma, the Mechanical Engineering Honors Society; the University Honors College; the Banneker Key Scholarship program; and the Keystone Engineering program—where she was a teaching fellow for the Dynamics course. Most recently, Yep swore the oath of the Order of the Engineer and was selected into the University Medallion Society. Post-graduation, Yep plans to work for Boeing in Philadelphia.
Published April 29, 2014