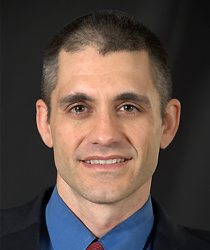 Bruck, Hugh
Professor
Distinguished Scholar-Teacher
Associate Dean for Faculty Affairs

Mechanical Engineering
Maryland Robotics Center

2110 Glenn L. Martin Hall, Building 088

EDUCATION
Ph.D., California Institute of Technology, 1994
M.S., University of South Carolina, 1989
B.S., University of South Carolina, 1988
HONORS AND AWARDS
Distinguished Scholar-Teacher , University of Maryland (2016)
NSF Promise Oustanding Faculty Mentor (2015)

Fellow, Society for Experimental Mechanics (2015)

Best Paper Award at ASME Mechanisms & Robotics conference (2010)

Fellow, American Society of Mechanical Engineers (2008)
Pi Tau Sigma Faculty Appreciation Award (2007)
Fulbright Scholar (2005)
ONR Young Investigator Award (2000)
Army Summer Faculty Research and Engineering Program (1997)
PROFESSIONAL MEMBERSHIPS
International Advisory Board for the journal Experimental Mechanics
Paper reviewer, International Journal of Solids and Structures, Metallurgical and Materials Transactions, AIAA Journal, Journal of Intelligent Materials Systems and Structures, Experimental Mechanics, Optical Engineering
NSF Proposal Review Panel on Civil and Mechanical Systems
Reviewer, National Defense Science and Engineering Graduate Fellowship program
Chair of Graduate Committee, Department of Mechanical Engineering, University of Maryland
Organizer, "Special Session on Biologically Inspired Materials," SEM 2001 Annual Conference & Exposition on Experimental and Applied Mechanics, Portland, OR;
Secretary, SEM Composites Technical Division
Consultant, Army Research Lab, Unistates Technology, Metal Matrix Cast Composites, Inc.
New techniques for rapid manufacturing and characterization of functionally graded, multifunctional, biologically-inspired, and nanocomposite materials Controlled formation of functionally graded and transversely modulated heterophase structures in thin films through diffusion and epitaxial principles Fundamental mechanical characterization and modeling of static and dynamic failure mechanisms in composite materials Development of new nanomechanical and multiscale characterization methods for composite materials and thin films New techniques for manufacturing Point-of-Care microfluidic devices using laminated object manufacturing and laser micromachining New biosensing principles for Point-of-Care microfluidic devices using optical methods and nanocomposite materials Development of multifunctional skins and compliant structures for robotics
2012
J. Balsam, Y. Kostov, H.A. Bruck, and A. Rasooly, ""Increasing sensitivity of complementary metal-oxide-semiconductor (CMOS) based fluorescence detection", to appear in Sensors and Actuators B (2012)
2011
J.Balsam, M. Ossandon, H.A. Bruck, and A. Rasooly, "Lensless CCD-based Fluorometer using a Micromachined Optical Söller Collimator", Lab on a Chip, 11, 941-949 (2011).
S. Haldar, H. A. Bruck, N. Gheewala, K. J. Grande-Allen, and M.A. Sutton, "Multi-scale Mechanical Characterization of Palmetto Wood using Digital Image Correlation to Develop a Template for Biologically-inspired Polymer Composites", Experimental Mechanics, 51, 575 (2011).
H. Jin, S.Haldar, W. Lu, and H.A. Bruck, "Grid Method for Microscale Discontinuous Deformation Measurement", Experimental Mechanics, 51, 565-574 (2011).
L. Banks-Sills, Y. Hikri, S. Krylov, V. Fourman, Y. Gerson, and H.A. Bruck, "Measurement of Poisson's Ratio by Means of a Direct Tension Test on Micron-sized Specimens", 169, 98-114 Sensors and Actuators: A (2011).
H. Jin, W.-Y. Lu, S. Haldar, and H.A. Bruck, "Microscale Characterization of Granular Deformation near a Crack Tip", Journal of Materials Science, 46, 6596-6602 (2011).
W. Bejgerowski, J.W. Gerdes, S.K. Gupta, and H.A. Bruck, "Design and Fabrication of Miniature Compliant Hinges for Multi-material Compliant Mechanisms", International Journal of Advanced Manufacturing Technology, 57, 437-452 (2011)
A.L. Roytburd, J. Ouyang, B. Boyerinas, and H.A. Bruck, "Stability of Heterophase Nanostructure and Field Induced Response of Epitaxial Ferroelectric Films", Applied Physics Letters, 99, 172902 (2011).
2010
M. Yang, H.A. Bruck, D. Kostov, and A. Rasooly, "Biological Semiconductor Based on Electrical Percolation", Analytical Chemistry 82, 3567-3572 (2010).
M.Yang, S. Sun, H.A. Bruck, A. Rasooly, and Y. Kostov, "Electrical percolation-based biosensor for real-time direct detection of Staphylococcal enterotoxin B (SEB)", Biosensors and Bioelectronics 25, 2573-2578 (2010).
D. Mueller, H.A. Bruck and S.K. Gupta, "Measurement of Thrust and Lift Forces Associated with Drag of Compliant Flapping Wing for Micro Air Vehicles Using a New Test Stand Design", 50, 725-735 Experimental Mechanics  (2010).
A. Ananthanarayanan, S.K. Gupta, and H.A. Bruck, "Characterization of a Reverse Molding Sequence at the Mesoscale for In-mold Assembly of Revolute Joints", Polymer Engineering and Science, 50, 1843-1852 (2010).
M. Yang, S.Sun, H.A. Bruck, D. Kostov, and A. Rasooly, "Lab-on-a-chip for Label Free Biological Semiconductor Assay of Staphylococcal Enterotoxin B", Lab on a Chip, 10, 2534-2540 (2010).
A. Ananthanarayanan, S.K. Gupta, and H.A. Bruck, "Modeling and Characterization to Minimize Effects of Melt Flow Fronts on Premolded Component Deformation during In-Mold Assembly of Mesoscale Revolute Joints", Journal of Manufacturing Science and Engineering-Transactions of the ASME, 132, 041006 (2010). (2010).
A.L.Gershon, D.P.Cole, A.K.Kota, and H.A. Bruck, "Nanomechanical Characterization of Dispersion and its Effects in Nano-Enhanced Polymers and Polymer Composites", Journal of Materials Science, 45, 6353-6364 (2010).
Other professional society fellows
Society for Experimental Mechanics
American Society of Mechanical Engineers (ASME)